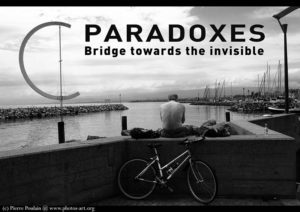 A 7-day international photo exhibition by philosopher and renowned international photographer Mr Pierre Poulain on the theme "Paradoxes" will be held at LJLA (304 Hawthorn Rd, Caulfield)
"When one looks at a picture, the mind recognises the objects and people in it. But the true meaning of a picture is beyond the reality of what one sees. The true meaning of a photograph is the sentiment behind it. Many photographers support their images with lengthy captions in a bid to describe this invisible sentiment. Yet, a photograph can never be about its description because the truth goes beyond it." P.P.
For Pierre Poulain, photography is a bridge towards the invisible. He says, "You can see the invisible only with the eyes of your soul". Pierre's passion for street photography is supported by his strong philosophical view of life. In 1986 he left France and migrated to Israel, where he founded the New Acropolis School of philosophy. For Pierre, philosophy and photography are complementary and the bond between them leads to wisdom.
Pierre's photos present a spectrum of concepts that take you through a journey of his worldview, which is an exhilarating experience.
For more details about Pierre: http://www.photos-art.org/
Lecture by Pierre Poulain and opening: Thursday, 30.11 @ 8.00 pm
Location: LJLA, 304 Hawthorn Rd, Caulfield
Tickets: https://www.trybooking.com/SVDY