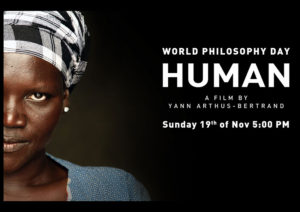 Who are you?
Most of us might answer: I am a Human Being. Though, are we really Human Beings, or more of a Human Doing? As Lilian Bell had put it in better words: Life is just one damned thing after another!
Let's put it to the test: do you identify yourself with all the things you do, all the things you have, all the… or you find yourself in the intangible – the Being?
In this year's World Philosophy Day we shall examen this important issue – Who we really are?
We'll be screening the short cinematic version of the epic documentary film by Yahn Arthus-Bertrand, "HUMAN". This film shows the struggles and triumphs that unite us all. It's a collection of stories and images from more than 60 countries around the world, offering an ode to the beauty of the world and an immersion to the core of that thing that connects us all – Being Human.
After the film, we'll have a short discussion on values such as living together, love, tolerance, resilience, reconciliation and more.
Please RSVP and get your tickets at:
 https://www.eventbrite.com.au/e/world-philosophy-day-human-tickets-39352391061